Javaher Polow (Persian Jeweled Rice)
Description:
Spectacular recipe fit for a king, this Persian rice is adorned with beautiful dried fruits and nuts that turn it into a jewel. Really memorable!
Rarely does a recipe grab me like this one does. It has a perfect blend of citrus, spices and basmati rice. I've made some changes based on the ingredients I have available. The book where the original recipe came from is listed in the Notes. Also this is made with 3 cups of rice. Anyone who has experience cooking rice knows that is a LOT of rice once it's cooked up. I recommend halving the recipe for most cases.
Ingredients:
Persian Jeweled Rice 
Javaher PolowFor 6 as a royal side dish
3 cups Basmati rice
2 organic oranges
1 large carrot
1 1/2 cup dried berry blend (golden raisins, pomegranete seeds, cherrys)
1 onion
1 cup sliced almonds
2 tbsp cinnamon
1 tbsp cumin seeds
3 tbsp green cardamom pods
pinch of saffron diluted in 1 glass water
1 1/2 sticks of butter (12 tbsp)
2 tbsp yoghurt
Preparing the rice:
1. Peel the orange and scrape the inside with a butter knife to remove the bitter white layer. Cut the rind of anorange in long strips.

2. Peel a large carrot with a vegetable peeler and continue to peel the flesh to obtain long, flat carrot strips.
3. Cut the orange strips sideways into tiny sticks. These will stand out on the rice like tiny orange jewels.
4. In a small saucepan combine the orange rind with 3 cups water and bring to a boil. Strain. This step helps getting rid of the rind's bitterness.
5. Combine one cup sugar with one cup water, bring to a boil and add both orange rind and carrot strips. Boil gently for 10 minutes, strain and reserve. This process partially candies the orange and carrot.
6. Jeweled rice called for a magical spice mix called advieh, which you can easily make by grinding together
3 tbsp green cardemom pods, pods discarded and seeds crushed
2 tbsp cinnamon
1 tbsp cumin seeds
7. Wash 3 cups of rice in twice its volume in water, wash and strain. Do this as many times as needed for the water to be totally transparent.  This process gets rid of the microscopic rice dust that would turn your royal dish into Vietnamese sticky rice. It takes only a few minutes.
8. Boil the rice in salted water until it softens but remains slightly crunchy, 9-12 minutes. Stir to ensure grains are fully separated, strain and reserve.
9. Melt 3 tbsp 
butter 
in a large pan with a tight fitting lid. This is important as it will prevent the rice crust from sticking - add more rather than less. Mix 4 tbsp of the partly boiled rice with 1 tbsp yoghurt and a drop of saffron water. Spread this mixture in a layer at the bottom. It will turn into a delicious golden crust, the hallmark of Persian rice dishes.
10. Cover the rice-yoghurt layer with two ladles of rice and add a fourth of the orange-carrot strips. Sprinkle some advieh (the spice mix) on top, and add another layer of rice and continue like before until you run out of ingredients. Try to shape the rice into a hill inside the pan so it will have room to expand.
11. Add a generous amount of advieh on top and pour the rest of the melted butter and saffron water and half a cup water. Cover tightly, possibly using a towel wrapped all around the top of the pot to prevent any leakage. Cook over low heat for about 45 minutes.
Preparing the garnish:
1. Soak 1 1/2 cup of dried berry blend into 2 cups warm water for 20 minutes. Thinly slice an onion and gently fry it in 2 tbs butter until soft and brown.
2. Add the strained berry blend and cook for one more minute. Reserve.
3. Toast 1 cup sliced almonds for about 10-15 minutes at 350°F while watching them continually. Nuts are easily overtoasted!

4. Prepare a large serving platter. Carefully pile the rice in a nicely shaped mound and garnish with the berry-onion mixture and nuts.
Notes: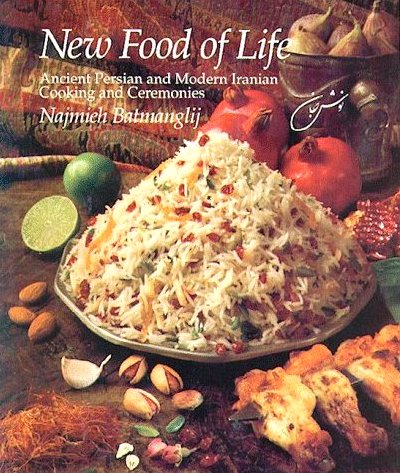 I modified this recipe which came from New Food of Life, Ancient Persian & Modern Iranian Cooking & Ceremonies but I first saw it on FXcuisine.com.
Difficulty: Average
Origin: Iran
Vegetarian: Vegetarian
Preparation Time: 1 hr 30 min